Hey guys!
The PAA has had a busy one this week! We've had auditions and big news, as two of our students found out they're going to be in this year's Helix Christmas panto, Jack and the Beanstalk! It's great to see our students doing so well; we're over the moon for Amy Cawley and Naya Rochford! Can't wait to see you on stage at our panto trip on the 5th of December!
We caught up with Amy to ask her about her audition experience...
1) What was your panto audition experience like? What were you asked to do?
It was nerve wrecking yet exciting, we were put into groups of 12, taught a dance and then asked to perform it group by group.
2) Were you nervous? What helped you get over the nerves?
I was so nervous as there were so many great dancers there so I took deep breaths and said 'focus and try your best'.
3) Describe the excitement you felt when you got offered the part!
I was so overwhelmed, so happy and screamed with delight! I couldn't believe I would be in the Helix Christmas Panto that I went to see every year with the PAA, and always dreamed of performing in!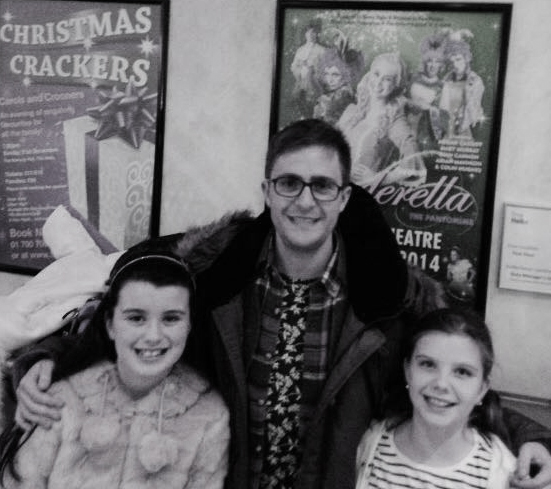 AMY (LEFT) AT THE HELIX LAST YEAR WITH GEORGE AND ELLA
We also had Aliyah Smith and Emily Mahon auditioning for a commercial, and Aliyah even got a callback! We're so proud, good job girls! We asked Aliyah what she thought of her first audition...
1) What was your first audition experience like?
It was a good experience, lots of fun and I really enjoyed it. It was about 5 minutes long; I was told when I went in what the ad was all about so I had an idea what the role I was auditioning for was about.
2) Were you nervous? What helped you get over the nerves?
I was a little nervous on the morning but once I get there and met the casting agents I didn't feel nervous, they were lovely fun people to be around. I was excited for the callback the next day.
3) What did you learn from the experience?
I learnt that auditions are not scary! There is no need to be nervous about them at all, they are fun! I didn't get upset that I didn't get the part, but it made me excited to go for more auditions if I get the chance! Plus, you get to have the day off school!
Emily added that going to her experience was "awesome, but t was a lot of pressure because it was my first audition and I wanted to impress them."
1): Were you nervous?
I wasn't too nervous but I think the last show we did at the PAA really helped with my confidence.
2:) What did you learn from the whole process?
I learned that auditions are actually fun and easy, so I'll know not to be nervous at all when I get a chance to do another one.
Great answers girls, you've made everyone at the PAA very proud of you all!!
Our Star of the Week was the lovely Carmen Byrne this week. We loved Carmen at Celbridge summer camp and were thrilled when she joined us in September. Grainne told us she's consistently brilliant in dance class and we think she's an amazing performer! Well done Carmen!
Stay tuned for my 'Meet the PAA Team' segment later this week!
If you're interested in joining the PAA, you can sign up for the next term by clicking here!
Becka xx