Hi everyone!
As always, stage school has been busy this week with preparations for our end of year show beginning already! Gráinne started working on some Spice Girls dance routines for the Viva Forever section of the show, while in singing class, the kids worked on some choruses from Mamma Mia. The seniors started their group drama classes in preparation for exams at Christmas, it's a new challenge for them and I'm so excited to see how they'll get on!
Last week's star of the week was won by my successor at the PAA; Katie Cleary! We were all really happy with her enthusiasm, she gave a great comic performance in drama class and she's a great role model for our younger students. Good job Katie.. You really are following in my footsteps!!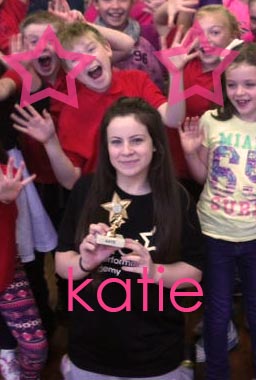 This week saw history being made in Celbridge.. not only did George learn how to 'whip' and 'nae nae' in class on Thursday, I also taught him how to use Instagram!!! Big week this week! You can follow us on Twitter and Instagram @thepaaofficial.
I'm also looking for students AND parents to participate in an interview segment for the blog so if you're interested pop us an email or Facebook message!
Becka Rose x